A while back, I read about a new 3D pen being developed on Indiegogo, the Creopop.  What made this pen stand out from current 3D pens such as the 3Doodler was that it was a heatless pen.  Instead of heating up and melting plastic to draw with, this pen used photopolymers and LED lights to be able to print without heat or fear of burns.  Not only did that make it more attractive as an elementary school teacher (no worrying about kids scorching themselves on it!), but it also opened up the door for many different kinds of inks.  Not only can you get the standard plastic ink, but also thermochromatic ink, aromatic ink, glow in the dark ink, and more.  They are also working on elastic, magnetic, and body paint inks.  How could I not back such an interesting product?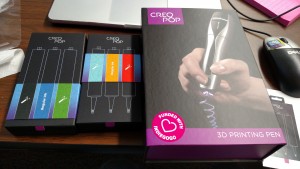 Today was the big day, my Creopop finally arrived!  I unpacked it, devoured the literature, and waited impatiently for it to charge.  (Bonus: the pen can be used wirelessly when fully charged, or use while charging with the included USB cable!)  Finally it was ready to use.  I installed my first ink cartridge, set up my included printing surface (purple, yay!), and took it for a spin.  The varying print speeds made it much easier for a 3D pen newbie such as myself to get the hang of it.  I definitely recommend the slowest speed when starting out.  After a couple of random doodles, I decided to try something a bit more complex, and created a mini boat.  It was a lot of fun!
First impressions:
Printing seems smooth and easy, particularly on lower speeds.
The included printing surface is a nice touch.
Look ma, no heat!  The pen stayed perfectly cool, and the plastic was safe to touch even straight out of the pen.
I like the different pen nozzles included, from fine point to wide point.
The LED curing process is very fast at low speeds.  I have not tried it at high speed yet.
There is apparently an LED only mode, and an ink only mode.  These let you fill in larger areas of your print or build a base for it and cure it afterwards.  I need to figure out how to turn these on.
I only had time for a few minutes of experimentation before school started, so hopefully I'll have some more insights once I have more time to play with it.  So far, though, I am pleased with Creopop pen, and I can't wait to play with it some more.