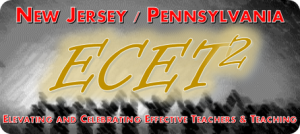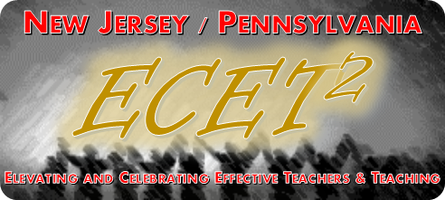 After a very long, very stressful week of school, what's a teacher to do to relax?  In my case it meant driving almost 2 hours Saturday morning to join the two day long NJPAECET2 conference along with 100+ fellow educators.  While I know this is not everyone's idea of 'relaxing', for me it was the perfect way to decompress after a long week, to learn and share new tools and ideas, and to catch up with old friends while making new ones along the way.
The conference was a great mix of formats.  Day 1 was a more formal conference style, with pre-arranged topics and presenters.  I attended five different sessions, and each one kept me fired up and excited about education.  The second day was more informal and was presented in an unconference style.  Attendees created the topics and schedule for the day, so that we had three more sessions and an app smackdown to finish up with.
During this conference, I got to moderate my first Twitter chat, #BFC530, a 15 minute sparkchat that usually runs at 5:30am EST and then again for MST.  It was very addictive, and my alarm has now been changed to 5:20am so that I can wake up and join in before work in the mornings.  I also sat in some great sessions on inquiry in science and STEM since I'm gearing up for the launch of my STEM lab, and went to two great sessions on being connected educators and leaders.  I came away with some new Google tools to try out, and even more materials for the presentations I give on Google Apps.
I came away from the conference exhausted but excited to apply what I learned, and to continue the conversations and friendships sparked during this fabulous weekend.  I can't think of a better way I could have spent it.