I am addicted to the dollar store.  I walk in planning to buy one or two items, and end up walking out with a cart full of supplies for various STEM projects and activities!  It's very dangerous for my wallet.  Since many of my STEM lessons revolve around supplies from the dollar store, I thought I'd do a series of posts on Dollar Store STEM for anyone wanting to get started with some easy and inexpensive ideas.  My personal favorite among the many dollar stores is Dollar Tree; we have a lot of them nearby and they always seem to have a ton of great items.
Today's project is the Plastic Cup Stacking Engineering Challenge.  The goal of the activity is to use a given amount of plastic cups to create the tallest tower possible.  It's a very simple lesson, but you can use it to spark discussions on gravity, engineering, distribution of weight, and more.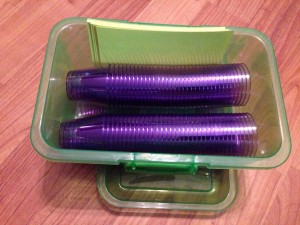 My supplies are extremely basic.  I purchased several packs of plastic 'shot glasses', plastic storage boxes with snap-on lids, and some neon index cards.  Each box holds three packs of cups, 75 in total, and a small pile of index cards.  The plastic boxes make it easy to organize and store the materials when not in use.  I then whipped up some simple instruction cards in Google Slides that I will print out, laminate, and attach to the box lids.  Presto! Instant STEM lesson!