It's time for some STEAM again!  This time we're combining crystals and painting.  This was a fun (but messy) project, with some pretty awesome results.
You will need:
Water
Epsom Salts
Table Salt
Food Coloring
Small bowls or cups for mixing
Paint brushes
Paper
The paint is easy to make.  In your bowl or cup, mix 1/2 tablespoon of epsom salts, 1/2 tablespoon of water, a pinch of table salt, and food coloring of your choice.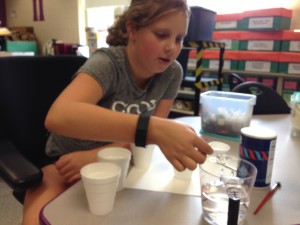 Next, stir the mixture well to dissolve as much of the epsom salts and table salt as possible.  You may end up with some of it undissolved, but that's OK.  I would probably try using warm water to help with the dissolve rate next time.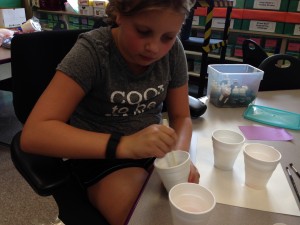 Now the fun begins.  Grab your paper and paintbrush, and begin creating your art.
The trick with this is to make sure you add lots of paint.  Your paper will get a bit soggy, so make sure you have a drying area for them.
As they dry, you should see crystals beginning to form.  Once the paint is completely dry, you'll have an awesome work of art covered in multicolored sparkling crystals!